I never thought of consumer routers being spec'd like a computer. At least, until I recently went shopping for a replacement router. I used to rely on the technology compatibility (AC/N/802.11?) and alternative firmwares use to choose my routers. The ASUS RT-AC68 made me take a 2nd look.
ASUS RT-AC68 Specs
The ASUS RT-AC68 features 802.11 a/b/g/n/ac support, 4 Ethernet ports, plus:
Dual-core 800MHz processors;
A single USB 3.0 port; and
256MB of DDR3 RAM
The router has specifications that match some computers, but does that make a difference?
ASUS boasts that the RT-AC68 router is the world's fastest Wi-Fi router. But what does that mean?
RT-AC68 Speedtest
RT-AC68 reviews exist in far greater detail than I can provide. I'll link to them at the bottom of this post in case you want more information. Here's why I replaced my Linksys EA4500.
I also updated my post <a title="Buying a compatible Time Warner cable modem" href="/time-warner-cable-modem/">Buying a Time Warner-compatible cable modem</a> article

My Linksys EA45000 showed frequent buffering watching Netflix. Even with a single device streaming on a 50Mbps internet connection during off-peak hours. While my average speed would reach 50Mbps I did notice a difference between the peaks and valleys in the graph. It appeared as though the connection was bursting to catch up. The graph showed a momentary slowdown and then a huge flush of data.
Unfortunately I don't have a screenshot of the before for comparison.
Here's a screenshot of the ASUS RT-AC68 speedtest from Speedtest.net: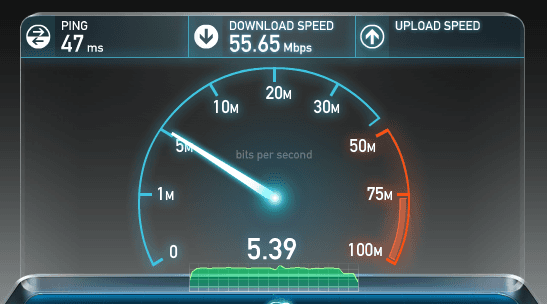 The green graph at the bottom of the screenshot appears steady.
Since switching to the ASUS RT-AC68R I've noticed:
My ping times are faster but not a lot. I averaged in the 60-100ms range with the EA-4500
My download speeds are more consistent. I don't see the roller coaster on the graphs
Download speeds are closer to the 50Mbps limit
Maybe I had a bad Linksys router? Maybe a cable I used was bad? Perhaps my wiring? I didn't test as much as I could but I did rely on other reviews (see the bottom of my post for other links). I believe the Asus RT-AC68 router is the source of the improvement.
I can't compare gaming use with the new router. I switched from using an Xbox 360 to a Playstation 4.
Asus RT-AC68 pricing
The ASUS RT-AC68 price is at the high end of retail consumer routers. I'm satisfied with the cost because:
I spend a significant amount of time on the Internet
I have many WiFi and hardwired devices
I pay for a high speed connection
Buy the Asus RT-AC68 from Amazon
What's the difference between the R and U designators?
ASUS markets two AC68 models: the RT-AC68R and the RT-AC68U. The only difference is the distribution channel.
The R model is available via retail brick-and-mortar stores such as BestBuy. The RT-AC68U is available online thru stores like Amazon.com.
More reading
These are some of the resources I reviewed before purchasing my router.